Song: "Only Wanna Be with You" by Hootie and the Blowfish from Cracked Rear View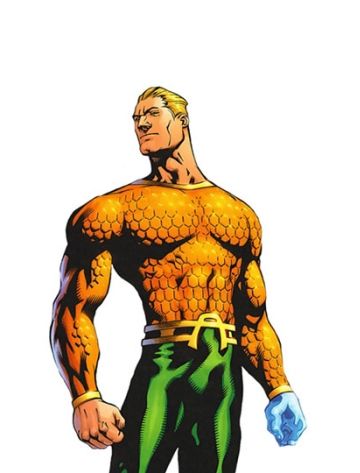 (Picture drawn by Patrick Gleason)
ANNA sits anxiously playing with a straw paper in a small booth. The light in the restaurant is dim and there is a small personal candle flickering in the center of the table. As the door opens, she stretches to see who is coming in and spots AQUAMAN. Aquaman is dressed in a dark green suit, an orange shirt, and a silver tie. She quickly smoothes out her simple black dress and arranges her wine glass just so as he spots her and waves.
AQUAMAN
I'm not late, am I? I thought we agreed on 7?
ANNA (almost apologetically)
I'm always early. My thing, I guess. You are right on time, no worries.
AQUAMAN (puffing out his cheeks in relief)
Good. I pride myself on being punctual. Everyone's always thinking that a man from the sea won't be on time, but that's not true.
ANNA
I've never heard anyone say that.
AQUAMAN
Oh…well, people say it. Flash, for one. Says it all the time.
ANNA
Well, you've proven him wrong today. You were right on time. And dressed dapperly too. Living underwater must be hell on the dry clean only duds, but they look great.
AQUAMAN (awkwardly buttoning then re-unbuttoning his coat, smoothing his tie)
It's not too much?
ANNA
Nah, I love a man who loves color.
AQUAMAN
Well, I like these colors.
ANNA
I know, I've seen you in your…action suit? Costume? Uniform? I honestly don't know what you call it. Anyway, I've seen you fighting monsters and such on TV.
AQUAMAN (embarrassed)
Oh…
ANNA
Aww, you're blushing. Don't be embarrassed, you look good in those duds too.
AQUAMAN
I do?
ANNA
Mmmhmm. Something about a man in scale mail wielding a trident…I tell you what.
AQUAMAN
Really?
ANNA
Well, no, not really. It's not like a fetish I have or anything. But you make it work.
They lapse into a sort of awkward silence, AQUAMAN still standing.
ANNA
So, are you going to sit?
AQUAMAN (blushing again)
Oh…gosh…yes. Sorry.
He slides into the booth and both sit in silence a bit longer.
AQUAMAN (sheepishly)
It's been…a little while since I've had a date.
ANNA
Relax. You're on time and you wore a nice tailored suit in an unconventional color. You're doing great.
AQUAMAN
That's good. You look great by the way. Very…fetching? Is that something people say on dates?
ANNA
Not usually. But we're us, not just people. I mean, you're not really a person at all, right? You're like…a fish kind of thing?
AQUAMAN
No, I'm a man.
ANNA
Like a fish-man, though.
AQUAMAN
No, no. Like a mammal one.
ANNA
But you live underwater.
AQUAMAN
Most of the time. I also have an apartment in town though.
ANNA
Oh! Really? I had no idea? Where?
AQUAMAN
Downtown, in the Chamber building.
ANNA
Wow, wow! Color me impressed! I couldn't afford to even look at an apartment there, nevermind rent one.
AQUAMAN (sheepish, moving to change the subject)
Yes, well…
ANNA
Oh my god, you don't even rent do you? You own?!
AQUAMAN glances away, embarrassed.
ANNA
Of course you own. You're a king. That's embarrassing. So sorry. Good for you. I'm super jealous but I'm totally not all "death to the rich man" or anything, so don't worry. I know you, like, work hard and are really altruistic and stuff so…yeah, I'm cool with you having cash. But not in a "buy me stuff so I'll be your girlfriend" kind of way. So we're clear.
Pause
ANNA
Anyway, if you live in water, you can't be a mammal.
AQUAMAN
Dolphins are mammals. They live in water.
ANNA
Dolphins are assholes.
AQUAMAN (almost choking on his water)
Sorry?!
ANNA
Dolphins. They're like…the frat guys of the sea, right? They rape and fight and masturbate for pleasure.
AQUAMAN
As opposed to masturbating for…?
ANNA
I mean, like, publically. And other sea animals don't behave like that.
AQUAMAN
But men do.
ANNA
Well, most men are assholes too.
AQUAMAN (pausing to consider)
On this, we can agree.
ANNA
Which is why it's good you aren't a mammal man but some sort of fish guy.
AQUAMAN
I'm not a fish guy. If I was a fish, I couldn't live on land at all. I'm a mammal.
ANNA
Who breathes underwater?
AQUAMAN
Right.
ANNA
No such thing.
AQUAMAN
Except for me. And my family.
ANNA
Family? Whoa, you aren't married, are you?
AQUAMAN
Not anymore. Mera and I…we don't work together anymore.
ANNA
Kids?
AQUAMAN
Yeah, one.
ANNA
How old?
AQUAMAN
That's…difficult to explain. Sometimes he's an adult and—
ANNA
Say no more. Man boys. I know allllllllll about them, believe me.
AQUAMAN
…ok, let's go with that.
ANNA
I'm kind of surprised.
AQUAMAN
Oh?
ANNA
Well, you hardly look old enough to have an adult son. You are keeping things tight, Aquaman.
AQUAMAN
You can call me Orin, if you don't mind.
ANNA
Orin, it is! You must still see your ex, I imagine.
AQUAMAN
We…sort of rule together still.
ANNA
Ahh, the work romance gone sour. I've been there. I used to work at this used bookstore over in the Hub and me and the head cashier, Phil, we totally were hot and heavy for three, four weeks. Then he dumped me for some barista at the Starbucks across the street. But I was the best bookseller and he was good at his job too so we still ended up getting scheduled together all the time. It totally sucked.
AQUAMAN
That's…not dissimilar, I suppose. Did you and Phil ever work it out?
ANNA
Nah, we ended up hooking up one night in the cash room after close and the big boss caught us. We both got fired. Haven't seen him since. Just as well. We were bad news for each other.
AQUAMAN
What do you do for work now?
ANNA
I work at a conservation nonprofit. We do ocean stuff, so you know, but not my part. I'm strictly trees and plants. So, Orin, breathe underwater, but you can live on land. You're an amphibian then, right?
AQUAMAN (sighs, to self)
I should have listened to Batman. Jordan's an idiot. Online dating? Honestly.
AQUAMAN (to Anna)
No, no. Just a man.
ANNA (waves him off)
Look, it's cool. Please, don't worry. I mean, I never saw myself dating an amphibian before, but whatever. I'm open. I'm done the poly thing. I went celibate for a bit. I dated other women in college. But like in a serious way, not in a "let's make out in front of all the boys at a party and drive them crazy" way.
AQUAMAN
That's…fine. But I'm still a—
ANNA (clearly not paying attention)
Actually, now that I think about it, we did make out in front of guys an awful lot. And almost never when it was just the two of us. And absolutely never when we were sober.
AQUAMAN, not knowing what to say, sits and plays with his silverware
ANNA
Wow…I think I've just experienced a revelation about myself.
Long pause, clearly lost in her own thoughts. Regroups and remakes eye contact with him.
ANNA
Anyway, totally fine with having sex with an amphibian man, especially one as fit and handsome as you.
AQUAMAN
Sex?
ANNA
Sure. I mean, protected, of course. We aren't serious or exclusive yet. But life's for the living, right. Oh wait! Damn! So sorry. You're like royalty and junk. I bet you totally can't have sex on the first date. And besides we only have drinks now. I mean, god, totally jumping the gun. Do I have to like best something in combat for a second date? Because I'm not saying I won't trying, but I'm really more of a cardio girl. I could run or swim away from something. Fighting though…I'm not sure I'd do well.
AQUAMAN (laughing a bit)
Relax. No combat required. No rules about who I can sleep with or when. But maybe we should get some dinner first.
ANNA
Right, good idea. I'll need for strength. You look like you could go all night.
AQUAMAN cocks his head to the side and smirks in reply.
ANNA (blushing)
Shit! Sorry! No filter at all here, apparently. I'm nervous I guess. Anyway, dinner sounds great.
AQUAMAN
Good. Let's do that then.
Both pick up their menus and go quiet.
ANNA (looking up from her menu, in a small voice)
I've just gotta ask, since you're a super hero and all, what can you do? Like I know swim fast, and really strong, and breathe underwater, and talk to fish. But am I missing anything?
AQUAMAN
Hmm…well, we all share common brain structures with fish, so I can affect that. Stimulate to cause it pain.
ANNA
Or pleasure?
AQUAMAN
I…suppose. Pain and pleasure are very similar, nervous system speaking.
ANNA
So, you could like totally just think me off right now?
AQUAMAN
I guess so. Never tried, honestly.
ANNA
Oh my god! You have to try it now or I won't be able to focus on anything else all meal. Please?
AQUAMAN
I don't—
ANNA
Come on! Just like a quick burst.
AQUAMAN (now enjoying her enthusiasm)
Ok, ok. Very quick though
He stares at her for a moment. She grips the table hard and gasps slightly, her cheeks going flush.
ANNA
Oh, I cannot wait to get you home!
AQUAMAN (laughing)
We'll see. Dinner first, rememeber?
ANNA
Right. Yes. Looking at menu now.
She does, but only briefly.
ANNA
One more super quick question though: who's the coolest animal in the sea?
AQUAMAN (without hesitation)
Manatees. No doubt. Totally chill. Great pranksters.
ANNA
Manatees?
AQUAMAN
Absolutely.