Song: "Wild Sex (In the Working Class)" by Oingo Boingo from Best O' Boingo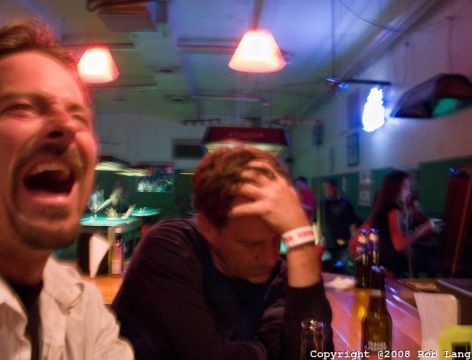 (Picture from http://roblang.photoshelter.com)
FRED, MIKE, LARRY, STAN, and CARL are sitting around a round wooden table in the back of a fairly empty bar. The table has seen better days. It's stayed with spills from drinks long since drank and there are divots and carvings all over it. It teeters occasionally when the guys lean on it, the legs no longer level. The bar is dim, although late daylight cascades in from the lone stained glass window several feet away. A pool table sits unused, a dart board is the focus of one man as he throws all six darts into the target, curses their placement, pulls them all, and begins again.
STAN (blushing and dismissive all at once)
This is dumb.
FRED (trying to get everyone in figurative line)
I'm not saying it ain't. I'm just saying my wife said I should do this, that it'd be good for me. And ever since she caught me peeking up Carol Ann's babysitter's skirt, I'm trying to stay on her good side.
STAN
Can't you just tell her we did it and be done with it.
FRED (arching his eyebrows in Stan's direction)
You met my wife. What'd you think?
Stan only shrugs in reply, knowing he's beat.
MIKE
You know we'll help you out, Fred. I think it's something fancy Eastern women do in bars where no even knows what beer is, but we'll help you out.
LARRY
Yeah, I'm in too. But first, I gotta know, Fred, I just gotta. What color?
FRED
Color?
LARRY (impatient)
Yeah, man, color. Don't go all stupid on me now. What color were the babysitter's…you know…unmentionables? Were they worth seeing?
FRED (his turn to be embarassed)
Well, obviously not since we all have to do this thing now cuz I couldn't keep my eyes to myself.
LARRY
Really? I thought she looked pretty prime.
FRED
Plus, on account of them being so tiny, it was hard to see the color at all. Now her ass? That was a crime worth the time.
LARRY (slapping his hands together)
Ha! I knew it! Course you being too stupid not to get caught means the rest of us never gonna get to hire sexy babysitters for our future kids, so I'm pretty pissed at you for that. But I'm pretty glad to hear the goods are as prime as they seem.
CARL (placing an empty glass of beer on table. Everyone else's are ¾ or so full)
If we're all going to sit around here and have a little salon, maybe we should do that then. Bonnie said I only get three beers and I just finished one while you too discussed some poor teen girl who's somebody's daughter like she was one of those mannequin's they're always forgetting to fully dress down at Herberger's.
STAN (annoyed)
What are you talking about? Bonnie's barely 21, and you two starting courting when she was 17 and you were like 29. But now you get to give us the talking to?
CARL
First of all, I was 28, second, I married her. Nothing wrong with looking up younger women's skirts when you already done married 'em.
LARRY
Ladies and Gentlement, I think the man's found a loophole.
CARL
Anyway, this isn't about me and the fact that I get to have sex with a college girl and the good Lord done approved of it. It's all about Fred and the fact that he's a dirty ol' man.
FRED (playing along, but still a little annoyed)
You're not as funny as you think. You're gonna wake up one morning and Bonnie's gonna be 40, same as any of our wives.
CARL
Maybe. But at that point, I'll be 51 so…you know, I still kinda win.
MIKE
That's true enough. So arguing with those numbers. So, Fred, lay it on us. Where do we start?
FRED pulls a small stack of index cards from his weathered jacket pocket.
FRED
Terry wrote down that she thinks we should start with how many women we slept with.
STAN
Why are we doing this again?
FRED
Because Terry says once I hear how all the resta you have it, I'm gonna realize how lucky I am.
MIKE
I'll start us off. 17.
LARRY
You're so fulla shit your eyes just went brown!
MIKE
First, no, born with brown eyes. Second, I'm totally telling the truth. Being in the Navy, especially now that our government says ladies are just as good as men, there's more than a little sex to go around. I was busy in my early 20's, honest to God.
FRED
If this keeps up, Terry might regret making me do this.
LARRY
Well, I'm not Wilt, unless Mike here, but I did okay. 10.
FRED
Tied! Ten, too.
MIKE
And probably the same 10 too.
LARRY and FRED (at once)
Hey that's…
Both exchange looks at shrug.
FRED
Probably mostly true. This is a pretty small town and unlike you…carpetbaggers, we grew up here.
MIKE
We know. You only remind us every day.
LARRY
Don't be mad just because you grew up in Greenville.
MIKE
Greenville beats your silly high school in football and basketball every year so maybe you oughtta just bite your tongue.
CARL (annoyed)
Other things to do here! I don't have time to listen to you jaw about your towns when we all know Toad Suck, Arkansas's the finest place in this grand land. My number's 6. Because I'm a romantic.
LARRY
And that's the most you could sleep with without risking getting yourself on a sex offender list for perving on teen girls.
CARL
Lar, you're so jealous of me, it must make it hard to do anything else.
FRED
Guys…Stan still hasn't said anything. Go ahead Stan.
STAN
I still say this is dumb.
MIKE
No arguments here. But we're helping out a buddy so speak up.
STAN
Fine. One.
CARL
You mean, besides Hannah, right?
STAN (looking away)
Nah…just her.
FRED
Oh…
STAN
Yeah.
LARRY
You know, that whole thing about waiting for marriage is just…it's not real, right? It's like something you tell kids to keep them from realizing how much fun sex is too early.
STAN
Well, I waited.
MIKE (interceding)
And good for you. The rest of us are just hypocrites in comparison, I spose. Fred? Next question?
FRED (looking at the cards again)
All right. Here we go. Sexiest dirty talk word you've actually used or have used on you. Mike, go!
MIKE
You gotta go fuck. Fuck. Is. Amazing. So versatile.
CARL
Disagree!
MIKE
That's a surprise. What's yours?
CARL
Cum/cumming. When my lady moans that out…damn.
LARRY
I like it, but I got you beat. Slut.
MIKE (almost choking on his beer)
What?! Who the hell let you use that?
LARRY and FRED (together)
Shelly Glenn
LARRY (turning to FRED)
You too?
FRED
Abso-fucking-lutely.
CARL
Where are you hiding this classy young lady?
FRED
Hey, knock it off. She was classy. Smart as hell too. Too smart for this town, actually. Which is why none of you guys ever met her. She went to…dammit, what's that school. The math one.
LARRY
MIT.
FRED
Yeah, MIT. I think she works for the White House now.
LARRY
Last I heard, yeah. So smart. I mean stupid enough to have sex with me and Fred, but otherwise smart. She even had a whole speech about the slut thing about how it was about her taking control of her sexuality and if you didn't respect that, the problem was with you, not her.
FRED
I kind of miss her.
CARL
Careful! That's not going to help you with Terry.
FRED
Not like that. She was just…she always was interesting.
LARRY
And nice, too.
FRED
Yeah…alright, Stan, you're up.
STAN
Umm…this doesn't really—
LARRY
Everybody's gotta play, Stan.
STAN
I don't know. "Feels so good," I guess
Long pause
FRED
O..k. So…next. How many times a week do you have sex?
LARRY
I've been married for 11 years. My sex life doesn't occur weekly.
FRED
Ooo….sorry man.
LARRY
Eh…the wife's not what she used to be and I've never been a prize, so…That's what the internet's for, right?
FRED
True enough.
Terry and I are pretty consistently once a week. Twice during birthday and anniversary weeks.
MIKE
I think that's about right for Jill and I too.
CARL
Hah. You guys need to get yourself younger wives. Try three times a week. BOOM!
LARRY
Oh screw you!
CARL
My choices aren't so funny anymore, are they?
LARRY
Stan, jump in here before I murder this jerk.
STAN
You said in a week, right?
FRED
Yep. One week. But if yours is lower than ours don't feel—
STAN
Five times a week. Sometimes six.
Stunned silence
MIKE
What?
STAN
Five times, usually, Sometimes six. Is that weird?
No one says anything further in reply. Scenes begins to slowly grow darker until black.
LARRY (from the dark)
People are allowed to have that much sex?