Letter: U
CD Number: 7
Track Number: 23
Song: "Numb" by U2 from Zoopora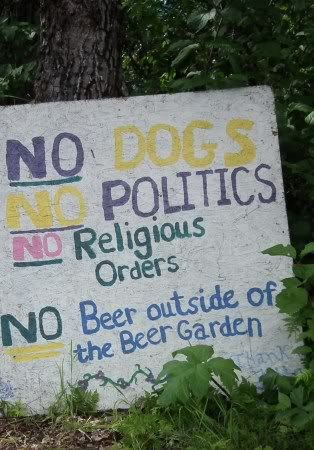 (Picture taken from http://www.donteatthepaste.com/2011/07/alaska-i-love-living-here-photos.html)
Claire and Bobby are looking up at a poster near the entrance of a cinder blocked building.
BOBBY (rocking back and forth from his heels to the balls of his feet)
Don't you think it's a lot?
I'm agreeing. It's a lot.
I don't know. If they are there, I assume there's a reason.
Well, if not, it's an awful lot of rules for no reason.
I think some of them might even contradict each other.
Really? I don't see that.
I'm not like guaranteeing it or anything. I'm just saying I think so.
Sure, sure. I'm just saying if there is, I haven't found any contradictions.
Ok. But…there's so much, you might miss it.
And some of these…can they enforce these? I mean, how would they even know?
Which ones are you worried about?
I mean, which do you think they can't enforce?
I don't know.

"Don't try." "Don't theorize." "Don't leak." What would that one even mean?
Anyway, I could do this all day.
I am all too aware of that. Should we just go somewhere else then?
Well…like you said, they wouldn't put them up without reason, right? I'm sure they are necessary.
Just an awful lot of them, you know?
Yup. Definitely a lot of rules. A whole lot.
They glance at each other, shrug, and head inside.
Reach out and touch me at
tim.g.stevens@gmail.com
or @ungajje on the Twitter. Let me know what you love and what you hate. And please, do spread the word.